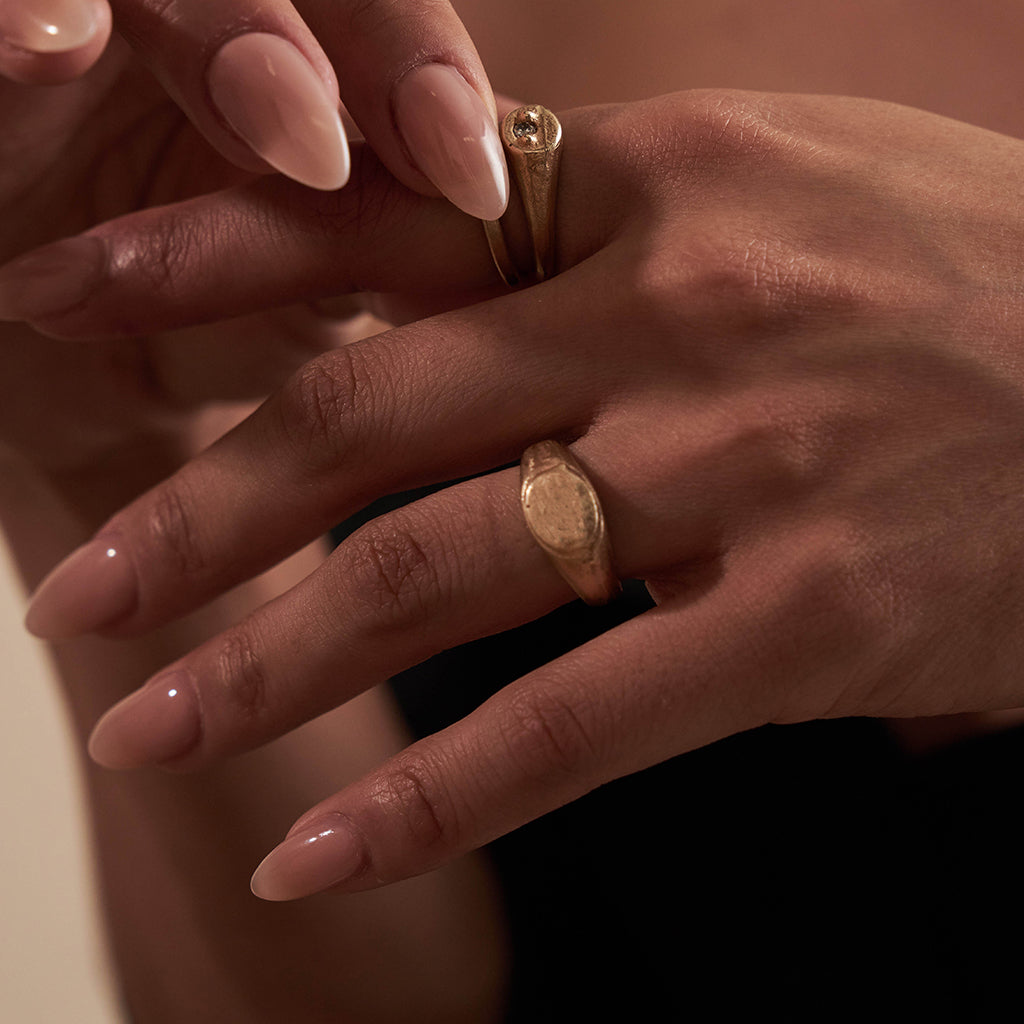 Harmony Signet Ring - Yellow Gold
Recycled yellow gold signet ring , gender neutral jewellery handmade in Sydney.
Gender neutral jewellery handmade on the southern coast of Sydney, the Harmony Ring in Yellow Gold is completely handmade in Zoë's studio on Dharawal country. 
Part of the Androgyne Collection - a carefully curated selection of gender neutral rings, the Harmony Signet Ring is suitable for him, her or they. A classic oval signet ring design, it's perfect as an alternative wedding ring or simply just as an everyday gold ring. Also available in plain silver or with a black and white diamond.
Crafted from recycled yellow gold, the gold used in these rings is melted down and hand poured. This process of sand casting or Delft clay casting results in one-of-a-kind fine jewellery pieces. Due to the nature of this process, the texture and finish of each yellow gold Harmony Signet Ring will be unique. That's the beauty of buying made to order, handmade jewellery!
Zoë Alexandria is ethical jewellery handmade in Australia. The metals and gemstones used in our rings, earrings and necklaces are responsibly sourced. The metal used in the Yellow Gold Harmony ring is sourced from our suppliers in Sydney and the gold we use is recycled. We believe in building a sustainable jewellery brand and you can read more about our studio ethos, material practices and trusted suppliers in our brand manifesto.
Do you have old jewellery that you want to be repurposed? Take a look at our recycling initiative. We encourage you to have a look through your jewellery box and send us any old pieces that you no longer wear. Let Zoë turn them into one of these Harmony Rings using your old yellow gold jewellery!
This ring has been handcrafted with recycled yellow gold. To keep it safe please keep your Harmony Signet Ring in it's reusable pouch and cardboard box when you're not wearing it. Make sure you apply your lotions and perfumes before you put it on and if you plan to go swimming, surfing or maybe even rock climbing - don't take it with you! 
Harmony Signet Ring - Yellow Gold
FAQ
Materials
We use a range of materials when making our jewellery, including;
Silver - 925 recycled silver
Gold - recycled gold (9k, 14k, 18k)
Natural gemstones - responsibly & ethically sourced
Learn more about our material practices here.
Gift Wrapping
Every purchase comes with a microfibre jewellery pouch inside one of our branded jewellery boxes.
If you're purchasing this item as a gift and would like it wrapped with ribbon, please select the 'This is a gift please add ribbon' option when adding to cart. You can also leave a note at checkout if you wish to include a message for the lucky recipient. 
Returns, Care & Warranty
We accept returns! plus, every piece of Zoë Alexandria Jewellery comes with a 6 month warranty. Read the full returns, care & warranty guidehere.
Size Guide
It can be tricky purchasing jewellery online, we get it! Follow this guide to find your ring size, necklace chain length or wrist measurement. If you require a custom size or extra assistance send us a message via the contact us page.
Shipping
Production & Delivery
Our Ready to Ship items are generally processed in 1-2 business days.
Items from our Made to Order range require up to three weeks to be lovingly handcrafted before they are carefully packaged and shipped.
Did we mention that shipping is included? Read our full production & delivery policy here.
Fast Track Your Order
Need it sooner? Sometimes we have items from the Made To Order range in stock, or we can put a rush on your order.
Get in touch with us and we'll see if we can help get your order to you sooner.
Gift Certificate
Gift certificates are a great option if you know someone who loves our jewellery, but you're not exactly sure what piece they want! We have two options for gift certificate purchases - a digital certificate, or a gift box.
Find out more here.